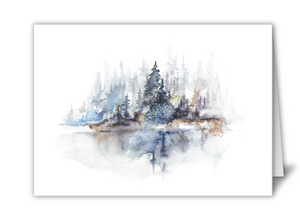 "Ripples" Blank Card 10 Pack
Regular price $44.00 $44.00 Sale
GIVE AS A CARD, THEN FRAME AS ART!
Behind The Painting
"Share your experiences. Share your stories. Share the works of others. Share your kindness. It matters. You never know, that one small thing you share just might ripple into the world and turn into a wave of change."
The high-quality construction ensures the cards will stay crisp and vibrant in their clear sleeve. Crafted from an original watercolor painting. They can easily be framed as beautiful artwork for your home.
Materials
*10 - 5"X7" blank cards with clear sleeves & envelopes
*Created from original hand painted watercolor paintings
*High quality inks on vellum paper
© Beth Suter Art, LLC All Rights Reserved