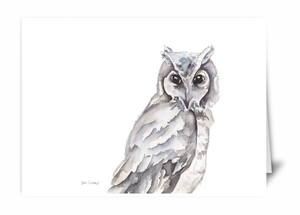 "Remembering" Blank Card 10 Pack
Regular price $44.00 $44.00 Sale
GIVE AS A CARD, THEN FRAME AS ART!
Behind The Painting
The owl sees what others do not. It symbolizes wisdom and intuition.  The owl asks you to trust yourself.  Owls have incredible hearing. In order for you to hear your inner guidance system, you must get still and quiet.

This owl is to remind you that you have all of the answers.  Get quiet, listen for the whisper to tell you what to do next and then follow that voice. Step into your joy. Embrace your heart based decisions and release the fearful ego mind.
The high-quality construction ensures the cards will stay crisp and vibrant in their clear sleeve. Crafted from an original watercolor painting. They can easily be framed as beautiful artwork for your home.
Materials
*10 - 5"X7" blank cards with clear sleeves & envelopes
*Created from original hand painted watercolor paintings
*High quality inks on vellum paper