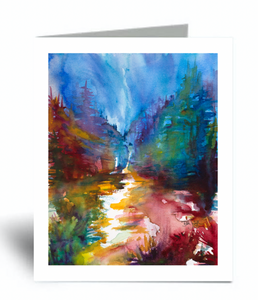 "Into the Woods" Blank Card 10 Pack
Regular price $44.00 $44.00 Sale
GIVE AS A CARD, THEN FRAME AS ART 
Behind The Painting
"And into the forest I go, to lose mind and find my soul."-John Muir.                      
  I painted this piece after a day long watercolor workshop.  I came home and instantly began practicing some of the new techniques I had learned. This painting started as a reference from a sunset photo, but it seemed as though the painting wanted to be something else.  I sat and listened and before I knew it, there was a forest.  Trees and mountains have always been one of my favorite meditative places.
The high-quality construction ensures the cards will stay crisp and vibrant in their clear sleeve. Crafted from an original watercolor painting. They can easily be framed as beautiful artwork for your home.
Materials
Card pack of 10 - 5"X7" blank cards with envelopes
High quality inks on vellum paper
© Beth Suter Art, LLC All Rights Reserved