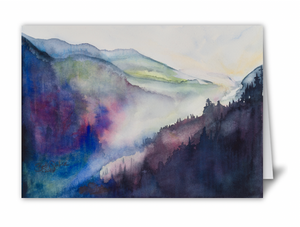 "Into The Essence" Blank Card 10 Pack
Regular price $44.00 $44.00 Sale
GIVE AS A CARD, THE FRAME AS ART!
Behind The Painting
This painting started as dark red poppies and a field of blues, purples and pinks.  But I wasn't feeling it. I thought, what if I cover all of this red with a deep indigo? And, Viola, it felt like magic! An entirely new painting unfolded.
Sometimes you start in one direction and end up in another.  Don't resist. Just go with the flow. Enjoy the ride.
The high-quality construction ensures the cards will stay crisp and vibrant in their clear sleeve. Crafted from an original watercolor painting. They can easily be framed as beautiful artwork for your home.
Materials
*10 - 5"X7" blank cards with clear sleeves & envelopes
*Created from original hand painted watercolor paintings
*High quality inks on vellum paper