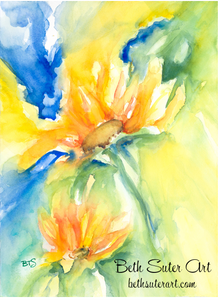 "Dream State" Floral Print
Regular price $25.00 $25.00 Sale
Available Sizes
This is a print on demand. Please allow 2 weeks for shipping
(
email for gallery wrap canvas options)
Behind The Painting
"I must have flowers. Always. Always." Claude Monet
I love sunflowers.
When I sat down to paint this it felt like it fell out of my fingertips. 
This piece is to remind you to let go of perfection and the hard-fast rules.
Remember to dream, remember to be creative, remember to allow an abundance of beauty into your life.
Materials
Premium, archival inks
Cold press, cotton rag paper
This high quality reproduction retains all of the vibrant colors used to create the original watercolor painting.
©
Beth Suter Art, LLC All Rights Reserved