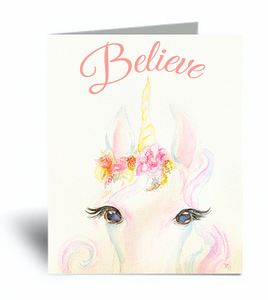 "Believe" Blank Card 10 Pack Holiday
Regular price $44.00 $44.00 Sale
GIVE AS A CARD, THEN FRAME AS ART 
Inspired by my daughters. They still believe in the magical, their imaginations run wild, and life is still seen through the lens of awe and wonder.  My prayer is this childhood perspective lives in their hearts through out their lifetime. My prayer is that it also lies within yours.  And if you have stopped believing in magic, I pray that this painting has you believing again.
The high-quality construction ensures the
 cards will stay crisp and vibrant in their clear sleeve. Crafted
 from an original watercolor painting. They
can easily be framed as beautiful artwork for your home.
Materials
Card pack of 10 - 5"X7" blank cards with envelopes High quality inks on vellum paper
© Beth Suter Art, LLC All Rights Reserved