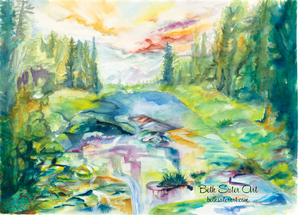 "Between Two Pines" Landscape Print
Regular price $60.00 $60.00 Sale
Available Sizes
This is a print on demand. Please allow 2 weeks for shipping
16x20
(
email for gallery wrap canvas options)
"Between every two pines is a doorway to a new world."
                                                                         - John Muir 
Look closely and you can see some of this John Muir quote peeking through the painting. The painting was inspired by a photo taken on the White River near Leavenworth, Washington. Inspiration photograph credited to Troy Abercrombie.
This piece brought forth a new world for me.
A place of vibrant color where earth meets the sky. 
This painting is part of my John Muir series.
Each painting has a JM quote written into them. Whether you live in an apartment in the city, near the ocean, in the middle of nowhere, or any place in between, I hope these pieces will remind you nature connects us all.
Materials
Premium, archival inks
Cold press, cotton rag paper
This high quality reproduction retains all of the vibrant colors used to create the original watercolor painting.
©
Beth Suter Art, LLC All Rights Reserved