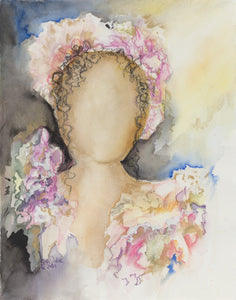 Inner Goddess IV WITH FRAME (Original Inner Goddess Portrait Paintings)
Regular price $475.00 Sale
*PLEASE NOTE THIS IS THE ONLY INNER GODDESS PORTRAIT THAT COMES FRAMED
 IMAGINE
Imagine your daughter, your mother, your grandmother, your close friend- receiving an unexpected gift from you. Beneath the ribbon and tissue paper is a stunning watercolor portrait made with creamy oil pastels, vibrant watercolors, and gold powder. Imagine her feeling the beveled edges of the cotton rag paper on her fingertips.  Imagine her connecting to the essence of the painting before her, her Inner Goddess.
 
BEHIND THE PAINTING
Each original painting will include the following message.

"This Inner Goddess Portrait is symbolic of the divine feminine. She represents your higher Self. She is strong and powerful and limitless.

She wants to remind you that you came here with a purpose. She wants to remind you that you are so much more, SO MUCH MORE than you are giving yourself credit for. She wants to remind you that life on Earth is short and yet it can be magnificent while you are here.
 She is the one that has the answers to the questions you seek. She is steadfast and all knowing. She has only your best interest in mind. You always have access to her. When you feel overwhelmed, scared, or small, you can call upon her to guide you because she IS you.  She is the part of you that can see beyond the small scope of the ego and has a Universal perspective.
 When you call upon your Inner Goddess, you are living in alignment.  You are in the flow. You feel creative, lighthearted, abundant. You feel joyful & powerful.  Because you ARE all those things. You fear nothing because you know you are so much more than you have allowed yourself to be.  You are tapped into the Universal energy. You are unstoppable.
 She wants you to KNOW that you my dear, are made of the cosmos and there is no dream too big for you.  Put her in your space to remind yourself that you can do and be anything you want."
GIFT 
Each Inner Goddess Portrait will be gift wrapped and sent to the loved one of your choice.   Gift her to an important woman in your life to remind her that she is strong, beautiful, powerful, and limitless.
** If you would like me to include a personal message from you, please type the message in the notes section at checkout
MATERIALS
One of a kind, ORIGINAL painting.
Hand painted with vibrant watercolors, oil pastels, and gold pigment on cotton rag paper.
SIZE INCLUDING FRAME: 16.5" x18.5"
*PLEASE NOTE THIS IS THE ONLY INNER GODDESS PORTRAIT THAT COMES FRAMED
SHIPPING 
FREE Shipping  within the continental U.S.A  
An additional shipping fee will be sent after purchase for all other locations. Please email me if you would like a shipping quote. bethsuterart@gmail.com