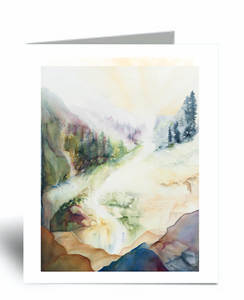 "Where Do We Go From Here?" Blank Cards 10 Pack
Regular price $44.00 $44.00 Sale
GIVE AS A CARD, FRAME AS ART!
Behind The Painting
Painted in 2020. A year that has found us all standing at a cross roads. Do we continue on the same path we've been on, do we veer left, veer right? Turn around, lay down, give up?
I pray this painting encourages you to always move forward.  Take time for rest and reflection, but then continue your evolution. It encourages you to learn and love and greet the word with as much gratitude as you can despite everything you see happening in the world.
You are alive right now, in this very moment of time that is so full of change.  See it as an opportunity to spread more connection, more love, more joy and more beauty.  To paraphrase Rumi, "What we seek is seeking us."
Where are you going from here?
The high-quality construction ensures the cards will stay crisp and vibrant in their clear sleeve. Crafted from an original watercolor painting. They can easily be framed as beautiful artwork for your home.
Materials
Card pack of 10 - 5"X7" blank cards with envelopes
High quality inks on vellum paper
© Beth Suter Art, LLC All Rights Reserved