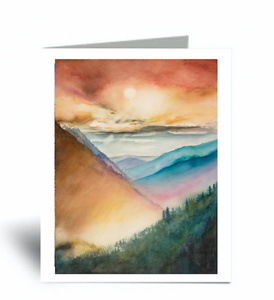 "The View Is Worth The Climb" Blank Card 10 Pack
Regular price $44.00 $44.00 Sale
GIVE AS A CARD, THEN FRAME AS ART 
Behind The Painting
"In the middle of your journey, you might be tempted to throw your hands up and walk back home. Your end goal might seem too far out of reach. But you must not give up.
If you are tired, rest. And when you have energy again, continue your ascent.
Once you reach the summit, the views will take your breath away. You will forget the aching in your muscles. You will forget the tears and exhaustion.
Instead, you will be filled with exhilaration and gratitude.
You will feel proud. Your heart will be light.
And you will stand in utter silence at the magnificence before your eyes."-Beth Suter
 This painting was inspired by a photo taken at Lake Ingalls, Alpine Lakes Wilderness. Photograph credited to Ty Grobmeier.
 This piece is to remind you that your hard work will be worth it.  It is the struggle that tests us. It is the grit that rewards us.
The high-quality construction ensures the cards will stay crisp and vibrant in their clear sleeve. Drafted from an original watercolor painting. They can easily be framed as beautiful artwork for your home.
Materials
Card pack of 10 - 5"X7" blank cards with envelopes
High quality inks on vellum paper
© Beth Suter Art, LLC All Rights Reserved