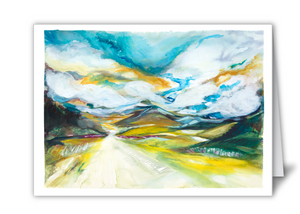 "Soul Restoration" Blank Card 10 Pack
Regular price $44.00 $44.00 Sale
GIVE AS A CARD, THEN FRAME AS ART!
Behind The Painting
"Everybody needs beauty as well as bread, places to pray in, where nature may heal and give strength to body and soul" -John Muir
The painting reminds me of all of the road trips and camping weekends gazing out at the Idaho sky. There is something about nature that gets me out of my head and into my heart. Inspiration photograph credited to Jake Haeberle. 
This piece is part of my John Muir series.
Each painting has a JM quote written into them. Whether you live in an apartment in the city, near the ocean, in the middle of nowhere, or any place in between, I hope these pieces will remind you nature connects us all. 
The high-quality construction ensures the cards will stay crisp and vibrant in their clear sleeve. Crafted from an original watercolor painting. They can easily be framed as beautiful artwork for your home.
Materials
*10 - 5"X7" blank cards with clear sleeves & envelopes
*Created from original hand painted watercolor paintings
*High quality inks on vellum paper
GIVE AS A CARD, THEN FRAME AS ART!