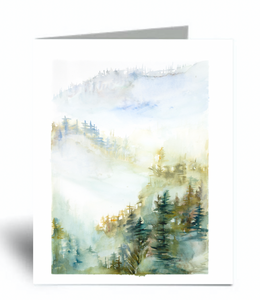 "Verso L' Alto" Blank Card 10 Pack
Regular price $44.00 $44.00 Sale
GIVE AS A CARD, THEN FRAME AS ART 
Behind The Painting
 "For all the things she had seen in her life, the beauty of the forest mist never failed to take her breath away.  The twigs and rocks crunched beneath her feet. She ascended the winding path.
Upward.
Her lungs gratefully burned as the incline pushed back against her body. The mountain air brought clarity to her mind. Reminding her once again that she was such a small piece in the fabric of the cosmos. She was made of the earth, the sky, and the stars.
This knowing made her calm.
She could drown in the noise and sorrows of the world, or she could dance in the wonder that surrounded her. The thought brought a smile to her lips.
She had made her choice.  And she continued on.
                     Upward."- Beth Suter
 
Inspiration photograph credited to Maggie Schindler. Taken in Post Falls, Idaho.
 This piece is to remind you there is always a choice.
The high-quality construction ensures the cards will stay crisp and vibrant in their clear sleeve. Drafted from an original watercolor painting. They can easily be framed as beautiful artwork for your home.
Materials
Card pack of 10 - 5"X7" blank cards with envelopes
High quality inks on vellum paper
© Beth Suter Art, LLC All Rights Reserved