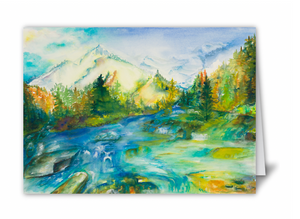 "So Many Beautiful Reasons" Blank Card 10 Pack
Regular price $44.00 $44.00 Sale
GIVE AS A CARD, THEN FRAME AS ART 
Behind The Painting
This quote painting has layers of watercolor painted over the John Muir quote-"There are so many beautiful reasons to be happy."
If you look closely you can see a few of them still peeking through.  The painting was inspired by a photo taken of Jughandle Mountain above Louie Lake near McCall, Idaho.  The photo was taken by Jake Haeberle of Idaho Jake photography. The photo gave me a baseline of where to begin my painting. The final piece is a blend of the photograph and my imagination.
This painting is to remind you to seek the joyful moments. Every day we can find reasons to be grateful, reasons to be happy.  The moments do not need to be grandiose.  It can be as simple as stopping to watch the sunrise or taking the time to notice our breath.  Seek out all of the beautiful reasons to be happy my friend, life gives them to you every day if you are willing to see them. 
The high-quality construction ensures the cards will stay crisp and vibrant in their clear sleeve. Crafted from an original watercolor painting. They can easily be framed as beautiful artwork for your home.
Materials
Card pack of 10 - 5"X7" blank cards with envelopes
High quality inks on vellum paper
© Beth Suter Art, LLC All Rights Reserved