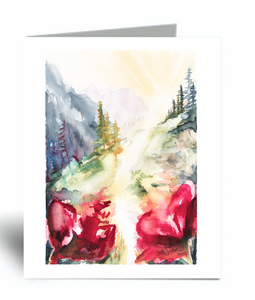 "Day Breaks" Blank Card 10 Pack
Regular price $44.00 $44.00 Sale
GIVE AS A CARD, THEN FRAME AS ART  
Behind The Painting
Part of the Wild Garden Series
When
I think of wild gardens, I think of beauty untamed. Wild grasses and flowers untouched by everything except the winds and the sun. Trees reaching to the sky piercing the clouds. A place where freedom runs wild and imagination bounds freely.
I believe each of us has our own version of a wild garden. A place that we've never seen yet it feels all too familiar. The place where we dream without limitations and feel most ourselves. Most alive.
This series invites you to access your inner voice. To listen to that stirring inside yourself begging to be unleashed. To live wild.
The high-quality construction ensures the cards will stay crisp and vibrant in their clear sleeve. Crafted from an original watercolor painting. They

 

can easily be framed as beautiful artwork for your home.
Materials
Card pack of 10 - 5"X7" blank cards with envelopes
High quality inks on vellum paper
© Beth Suter Art, LLC All Rights Reserved