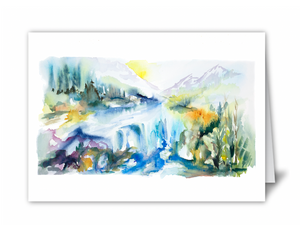 "A New Day" Blank Card 10 Pack
Regular price $44.00 $44.00 Sale
GIVE AS A CARD, THEN FRAME AS ART 
This painting was the result of having a creative & mental block. After multiple attempts of unsuccessful paintings, I sat down with my brushes and started making marks on paper. I had no intention of creating a painting.
I simply enjoyed watching the paint move on the paper. The entire process seemed to happen in slow motion.
As I continued to paint, I realized a painting was taking form. 
This piece is to remind you that nothing stays the same. Life can change in a moment's notice. It may feel like a dark storm today, but tomorrow might feel like the sun rising and shining on your face.
If you are ever swept up in a rainstorm, hang in there.
The rainbow and sunshine will come.
card
The high-quality construction ensures the cards will stay crisp and vibrant in their clear sleeve. Crafted from an original watercolor painting. They can easily be framed as beautiful artwork for your home.
Materials
Card pack of 10 - 5"X7" blank cards with envelopes
High quality inks on vellum paper
© Beth Suter Art, LLC All Rights Reserved